I for iPhone in A to Z of Email Marketing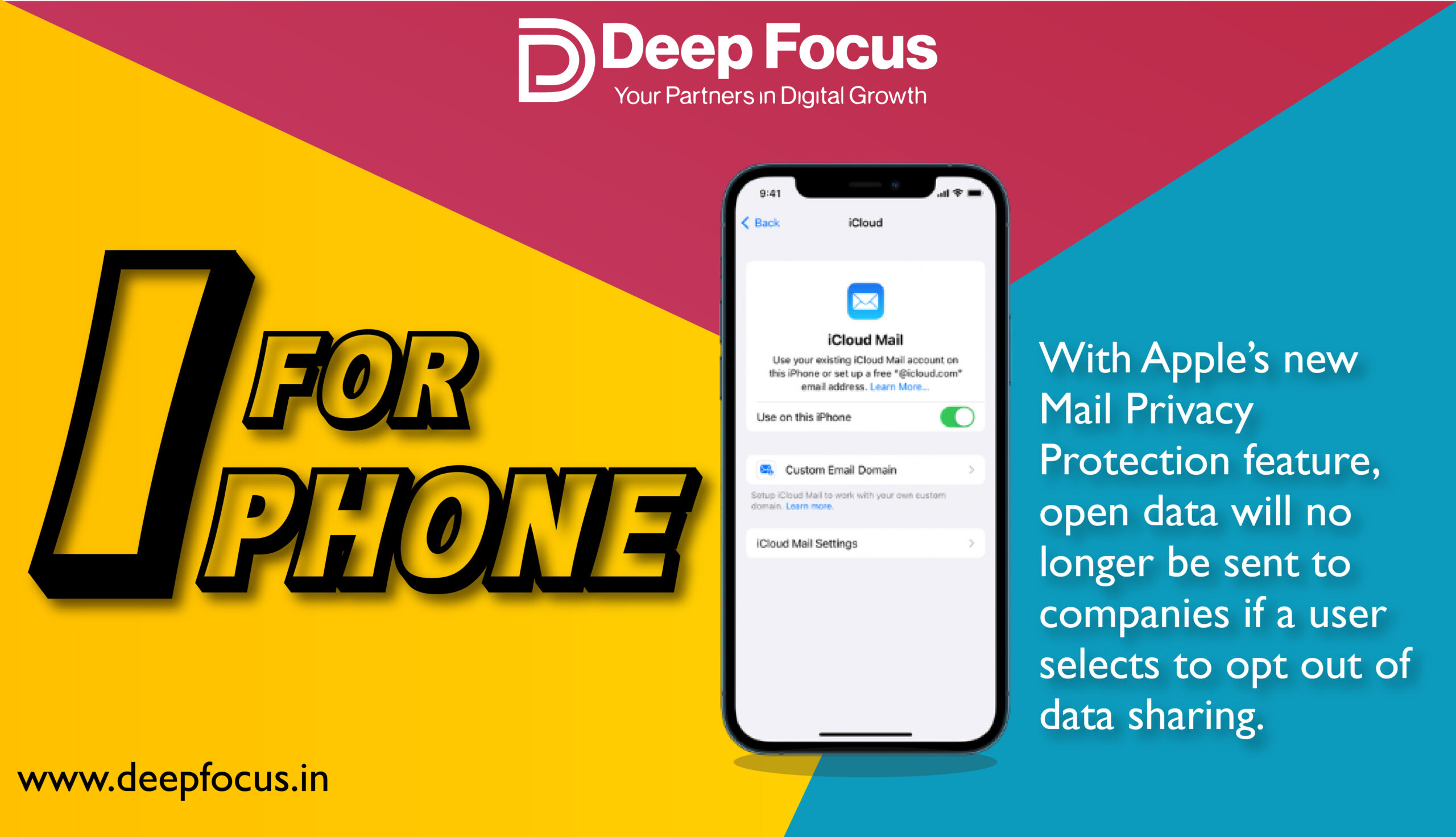 iPhones have become a hot topic in Email Marketing. The recent 2021 Apple Privacy Policy implementations have drawn a lot of attention from Marketers.
Apple Phones have always rendered emails a bit differently as compared to other clients like Gmail and Outlook. When designing templates in Mailchimp, I highly recommend doing some testing before actually sending campaigns.
An interesting quick fact: There are over 1.5 billion apple devices used as of Dec 2022. This number is likely going to increase over the next months / years.
On June 7th, 2021, Apple announced its privacy leadership with iOS 15, iPadOS 15, macOS Monterey, and watchOS 8. You can catch a 10-minute summary video or the official press release. These new features help users control and monitor applications' use of their data, impacting those who engage in email marketing.
iOS 15 is predicted to drop around September 2021 (this currently looks like sometime mid of this month), and if like iOS 14, the updates/adoption rates will take about 6 weeks or more to roll out to the majority of users, so you are maybe looking at the impact hitting just in time for:
Black Friday
Cyber Monday
Diwali
Christmas
New Year
January Sales
Here is what will happen with iOS 15 and the Mail app: *
IP addresses will be blocked.
The opening times of emails will now no longer be accurate at all
Fake email addresses can be used to sign up for newsletters and sign in to some services.
Email opens will be completely inaccurate – All emails will be marked as open whether a person reads them or not.
Tracking Pixels (or "spy pixels") will be opened by default
All remote images will be preloaded before hitting the users inbox
The iOS proxy will prevent getting client breakouts between iPhones, iPad and Apple Mail.
Detailed email headers will not be available
Device type will not be known
* This currently only affects the Apple Mail app and not other email Apps on Apple devices
What Email Privacy looks like
This is how things will look (currently) when opening iOS 15 and the Mail App for the first time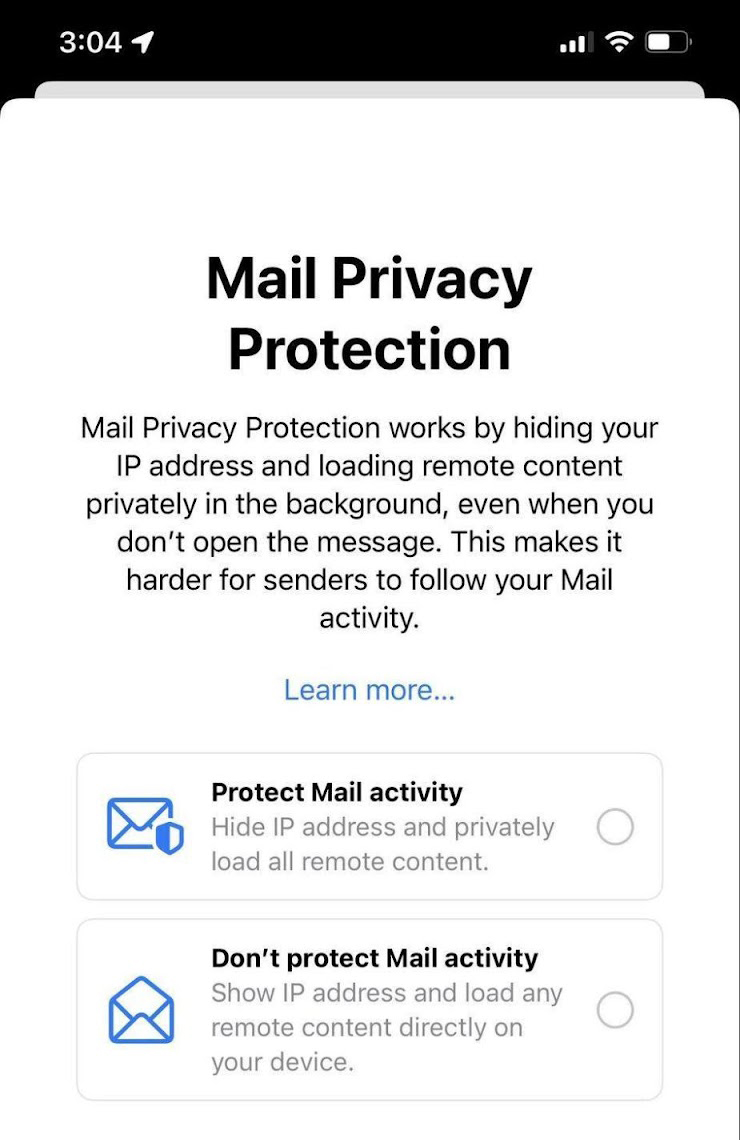 People will have to actively make a choice. Based on the 4% opt-in to ad tracking from Apple's App Tracking Transparency tool and the language around the Mail Privacy Protection options, it's highly likely we'll see similar opt-in rates for email tracking.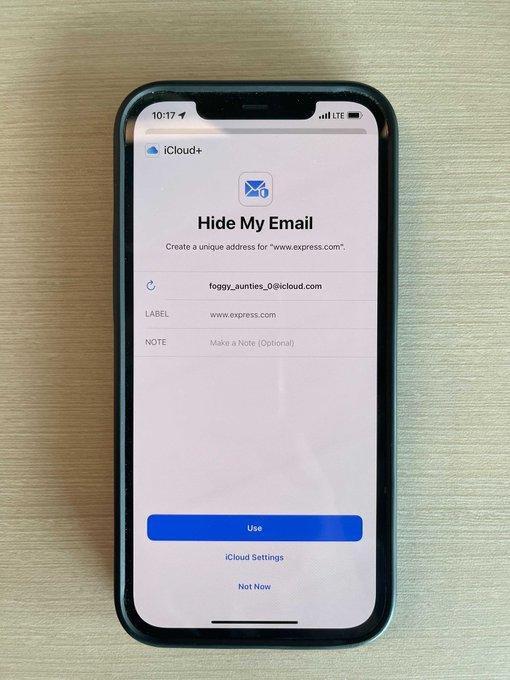 When you tap "Hide My Email" a screen pops up that autogenerates a new email address and assigns it to the domain. (Screenshot wouldn't work on this one)
Apple Watch S3 – S6
Apple Watch SE
iPod Touch (seventh generation)
iPhone SE – iPhone 12 Pro Max
iPad Pro 12.9-inch (first through the
fifth generation)
iPad Pro 11-inch (first through the third generation)
iPad Pro 10.5-inch
iPad Pro 9.7-inch
iPad (fifth through the eighth generation)
iPad Mini (fourth and fifth generation)
iPad Air (second through the fourth generation)
iMac (late 2015 and later)
iMac Pro (2017 and later)
Mac Pro (late 2013 and later)
Mac Mini (late 2014 and later)
MacBook Pro (early 2015 and later)
MacBook Air (early 2015 and later)
MacBook (early 2016 and later)
How will this affect Email Marketing?
Impact on Open Rates – This will be the most significant impact. Open rates will no longer be correct. It is still speculative how Apple is going to achieve this but based on various Email Providers and Experts they will be opening the Emails via Proxy even before it reaches the Inbox. Which basically means that open rates on Apple Devices will show 100%.
IP Blocking – We will not longer have information about Users Location as IP information will not be relayed back.
Impact on Deliverability – One of the biggest issues is Apple will not provide data on bounces, spam report, etc which means marketers will be in a dark room with respect to how engaged their list/audience is. Click here to read more about Apple's Best Practices Guidlines.
Send Time Optimization – We will essentially have no data of What time the users are opening our emails. So it will become difficult to predict what is the best time to send campaigns.
Campaign based Impact – Due to these updates some campaigns will no longer have any relevance like – :
Campaigns based on Non Openers
Retarget Campaigns
Split Testing
Automation based on Opens
Countdown timer and other CSS elements might be impacted
What can we do about this?
For now, don't panic; plan. Reach out to your Email Marketeer directly (share this email with them) and inform them of what is coming and how it could impact your email marketing.
1. It will be a good idea to do a List Clean up, hygiene checkup before these changes take affect.
2. Take notes of existing open rates so that you have a fair bit of idea when open rates stop getting tracked.
3. Collect as much data you can of existing audience ie. Device Information, Location, etc (You will atleast know what percentage of Existing Subscribers in your List are Apple users which will help you predict the actual open rates.
4. Focus more on Content – It's often said "Content is King" for a good reason. While we will not have accurate reporting on Opens, However Click rates will still be tracked as they are linked to External URL / Webpages. This is a silver lining and positive part of the update I Believe. It will encourage marketers to actually start making more useful and engaging emails / content.
I'm paying close attention to this and will be testing to see what impact this update will have on our email marketing. We'll keep our clients updated as we learn more."
If you think this information was helpful, Please share this Email to your fellow marketeers, clients or concerned persons.