Case Study Graphic Designing for Tuff 'n' UP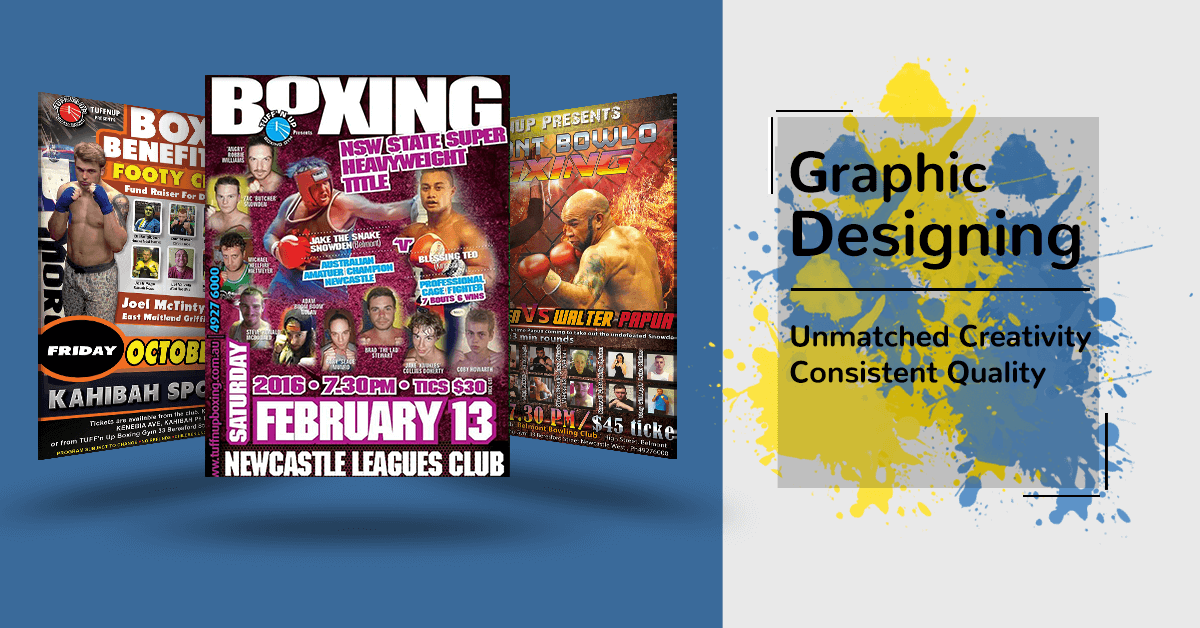 Graphic Designing Project to Develop Posters for Monthly Tournaments
Posters designed for MMA Style Boxing Gym "Tuff N Up" based in NSW, Australia. We brought life into the Monthly Tournaments organized by the Gym which served as promotional as well as a revenue model for our Client.
Our Client Tuff 'n' Up has a reputation for providing excellent training and resources for Boxers in New South Whales as well as other parts of Australia. The Gym not only caters to PRO Boxers but also Amateurs who want to learn Boxing as well as Fitness lovers who train in the sport as an active way to remain fit.
The Project demanded high attention to details as each Event would showcase fights and completion between 20-30 fighters. The monthly fights featured Campion Fighters as well as amateurs. The Client required an A3 Size Poster of high res Quality which could be Digitally Printed for outdoor Promotion as well as indoors. The other challenge was to present information of Each Fight, Name of the fighters, Date, Time of Event as well as Ticket Price. The Venue Address and contact details which changed often had to be taken into account too.
Solution
Since the project demanded Indoor and well Outdoor lighting conditions We created standard colors that would provide the best visibility and at the same time being sympathetic to the customer's branding and company vision. As seen below we came up with create themes that were relevant to the event and showcased the nature of the event. Our focus was to have an attractive final product while emphasizing on Masculine, Sporty and Tough Imagery, Theme and Icons.
We used various tools to finish the final deliverable. Photoshop CS4 was used extensively to enhance, edit and transparent the Fighter images which were often taken from a Phone Camera. The final layout would then be realized in Indesign and we supplied the files to Client in PDF, PNG as well as JPG. The sizes were also varied so they could reuse the Posters for their Social Media / Facebook campaigning as well.